خوێندنەوەی كتێبى "بۆچى دەوڵەتان شكست دەهێنن: ڕيشەزاى دەسەڵات و خۆشگوزەرانى و هەژارى"
د.عابید خالید
بۆ بینینی بابه‌ته‌كه به‌ PDF‌ كلیك له‌م به‌سته‌ره‌ بكه‌:-  ژمارە (10)ی تشرینی دووەمی 2021ی گۆڤاری ئایندەناسی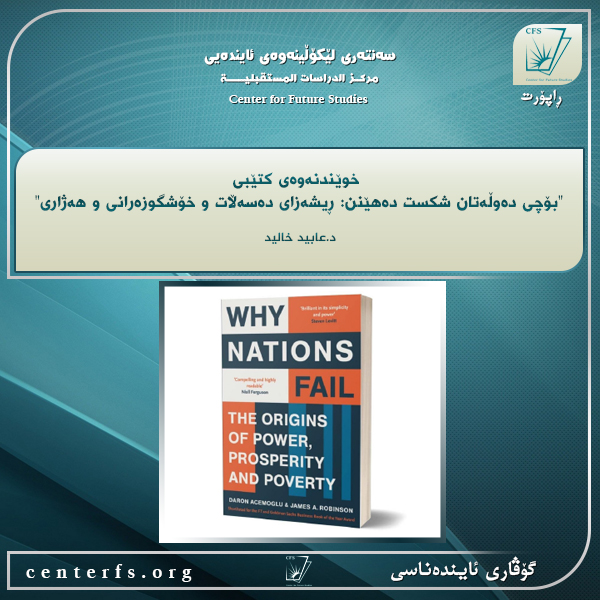 ئەم کتێبە لە نووسینى هەردوو نووسەر "دارون عەجەم ئۆغلۆ، پڕۆفيسۆرى ئابوورى لە پەيمانگاى ماساشوتس بۆ تەكنەلۆژيا" و "جيمس ئەى. ڕۆبنسۆن، پڕۆفيسۆرى زانستى ڕاميارى لە زانكۆى هارڤارد"ە. کتێبەكە لە بنەڕەتدا بە زمانى ئینگلیزى بە ناونیشانى "Why Nations Fail: The Origins of Power, Prosperity, and Poverty" نووسراوە و ساڵى ٢٠١٢ لەلایەن دەزگاى "Crown Business" لەچاپ دراوە. دواتر لە ساڵى ٢٠١٥ لەلایەن "بدران حامد" وەرگێڕدراوە بۆ زمانى عەرەبى کە بە ناونیشانى "لماذا تفشل اڵامم: أصول السلطة واڵازدهار والفقر" لە دووتوێى (٦٢٦) لاپەڕەدا دەزگاى "الدار الدولية لڵاستثمارات الثقافية" لە قاهیره بڵاوی کردووەتەوە.
ئەم كتێبە گوزەرێكى سەرنجڕاكێشە بە مێژووى وڵاتاندا، بە مەبەستى شيكردنەوەی چۆنێتیى دروستبوونى سيستمى سياسیى وڵاتان، كە لە ئەنجامدا بەو دۆخەى گەياندوون كە ئێستا هەيانە لە پێشكەوتن و خۆشگوزەرانى يان هەژارى و شكستخواردن. لە ئەنجاميشدا ئەم كتێبە تيۆرێكى نوێ بۆ شيكردنەوى هۆكارەكانى شكستهێنانى وڵاتان دەخاتە ڕوو، كە تيۆرێكى گشتگير و جياوازە لە زۆربەى ئەو تيۆرانەى پێشتر لەم بوارەدا باو بوون و خراونەتە ڕوو، تيۆرەكەش بەسەر سەرجەم وڵاتانى جيهاندا پراكتيك كراوە. هەر بەپێى تێۆرەكەش، چەندين پێشبينى سەبارەت بە ئايندەى چەندين وڵات (وەك چين) خراوەتە ڕوو.
ئەم كتێبە كە بەرهەمى (١٥) ساڵ كاركردن و توێژينەوەى هەردوو نووسەرە، گەنجينەيەكە لە زانياریى مێژوويى و ئابوورى و سياسى، هاوكات ديدگايەكى گشتگير سەبارەت بە چۆنێتیى دروستبوونى ئەو سيستمە سياسى و ئابوورييانە دەخاتە ڕوو كە ئێستا لە وڵاتانى جيهاندا هەن، لەگەڵ خستنەڕووى ئەو هۆكارانەى كە بوونەتە سەرچاوەى دەركەوتن و پەرەسەندنيان و ئەو دۆخەش كە ئێستا پێى گەيشتوون. هەموو ئەم باسانە بە شێوازێكى وەها سەرنجڕاكێش خراونەتە ڕوو، كە خوێنەر ناچار دەكات بە ديدێكى جياوازەوە بڕوانێتە وڵاتان و بزاوتى نێوان دامەزراوە سياسى و ئابوورييەكانى هەر وڵاتێك و هۆكارەكانى سەركەوتن يان شكستخواردنيشيان.
مەبەست لە وڵاتانى شكستخواردوو ئەو وڵاتانەيە كە تياياندا هەژارييەكى بەرفراوان باڵادەستە و داهاتى تاكەكەس زۆر كەمە و ئاستى بژێوى و پێشكەشكردنى خزمەتگوزارييەكانيش (بەتايبەت لە بوارەكانى خوێندن و تەندروستى و گواستنەوە) لە ئاستێكى زۆر نزمدايە.
كتێبەكە لە بەشەكانى سەرەتايدا، سێ تيۆرى سەرەكى دەخاتە ڕوو، كە شرۆڤەيان بۆ هۆكارەكانى سەركەوتن و پێشكەوتن يان شكستهێنان و دواكەوتنى وڵاتان لە جيهاندا كردووە، ئەو سێ تيۆرەش بريتين لە: يەكەم: تيۆرى "پێگەى جوگرافى"، كە دەڵێت ئەو وڵاتانەى دەكەونە نێوان هەردوو خولگەى دووپشك و كاوڕ لەسەر گۆى زەوى؛ وڵاتانى هەژارن، بەڵام وڵاتە دەوڵەمەندەكان دەكەونە سەر هێڵە مامناوەندەكانى گۆى زەوى. دووەم: تيۆرى "پاشخانى كولتوورى"، كە ئاستى پێشكەوتنى وڵاتان بە كولتوور و بەها ڕەوشتييەكانەوە گرێ دەدات، وەك بەستنەوەى پێشكەوتنى ڕۆژئاوا بە ئايینزاى پرۆتستانتى يان مەزەندەكردنى دژايەتيكردنى تەكنەلۆژيا لە بەهاكانى كۆنفیوشيەسدا. سييەم: تيۆرى "نەزانى"، كە سەرچاوەى نايەكسانى و هەژاریى وڵاتان دەگێڕێتەوە بۆ نەزانى و پەينەبردنى گەلان و سەركردەكانيان بە ڕێگاكانى دادپەروەرى و دەوڵەمەندبوون.
بەڵام، بە ڕاى نووسەرانى كتێبەكە، هيچ كام لەم تيۆرانە سەركەوتوو نەبوون لە خستنەڕووى ڕاڤەيەكى گشتگير بۆ شرۆڤەكردنى هۆكارەكانى سەركەوتن يان شكسخواردنى وڵاتان لە جيهاندا، بۆيە هەم مێژوو و هەم دۆخى هەنووكەيی وڵاتان تێزى هەريەك لەم تيۆرانە ڕەت دەكاتەوە، نموونەش بۆ ئەمە هەردوو دەوڵەتى كۆرياى باشوور و كۆرياى باكوورى هاوسێيە، كە پێگەى جوگرافیی هەردوو دەوڵەت لەسەر هەمان دوورگەيە، هاوكات گەلى كۆريا لە هەردوو دەوڵەتدا لە هەمان نەژادى هاوچەشنن و هەتا جەنگى جيهانیى دووميش خاوەنى هەمان باكگراوندى كولتوورى و بە هەمان ئەزموونى مێژوويى جوگرافیى هاوشێوەشدا تێپەڕ بوون، كە ئيدى لەدواى ئەو جەنگەوە هەردوو وڵات لێك ترازان و لە هەريەكێكياندا سيستمێكى سياسى و ئابووریى جياواز باڵادەست بوون كە وايان كرد يەكێكيان ببێتە وڵاتێكى سەركەوتوو و ئەوی تريشيان ببێتە وڵاتێكى شكستخواردوو. نموونەيەكی تر بريتييە لە شارى "نۆگاليس"، كە پەرت بووە بۆ دوو پارچە، كە پارچەيەكيان سەر بە وڵاتە يەكگرتووەكانى ئەمەريكايە و ئەوی تريشيان سەر بە وڵاتى مەكسيكە، لە كاتێكدا كە دانيشتووانى هەردوو پارچەكە لە هەمان گەلن و لە پێگەى جوگرافى و پاشخانى كولتووريیشدا هاوبەشن، بەڵام دانيشتووانى پارچەى يەكەميان لە بەختەوەرى و خۆشگوزەرانيدا دەژين و دانيشتووانى پارچەكەى تريش گيرۆدەى هەژارى و بەدبەختين.
بەم شێوەيە هەرسێ تيۆرەكەى پێشوو لەبەردەم نموونەكانى واقيعدا ناكام دەبن، بۆيە هەردوو نووسەر بە درێژايى بەشەكانی ترى كتێبەكە هەوڵ دەدەن تيۆرێكى دى بخەنە ڕوو كە پشت بە جۆر و كوالێتیى ئەو سيستمە سياسی و ئابوورييە دەبەستێت كە لە هەر وڵاتێكدا بەركارە، تێزى سەرەكیى ئەم تيۆرەش ئەوەيە كە: ئەو وڵاتانەى شكستيان هێناوە يان لە ئايندەدا شكست دەهێنن، ئەو وڵاتانەيە كە سيستمى ئيستبدادى، لەسەر هەردوو ئاستى سياسەت و ئابوورى حوكمڕانييان دەكات، كاتێك كە تاقمێكى كەمينە سەروەت و سامان قۆرغ دەكەن لەپاڵ هێزێكى داپڵۆسێنەرى ناوەنديدا. بەپێچەوانەشەوە، ئەو وڵاتانەى كە سەركەوتوون ئەو وڵاتانەن كە خاوەنى سيستمێكى سياسیى گشتگيرن، گشتگير بە واتاى سوودى بۆ گشتە و گشتيش تێيدا بەشدار بن، ئەم جۆرە سيستمە بوار بە دابەشكردنى هێز لەنێوان چەندين دامەزراوەى سياسى و ئابوورى دەدات لەپاڵ هەبوونى دەسەڵاتێكى ناوەنديدا كە پارێزگارى لە ئارامى و سيستمى گشتى دەكات و ياساش بە يەكسانى بەسەر هەموواندا دەسەپێنێ.
دەوڵەتە شكستخواردووەكان ئەگەرچى ڕەنگە بۆ ماوەيەكى دياريكراو پێشكەوتنى ئابووریى بەرچاو بەدەست بهێنن، وەك يەكێتیى سۆڤيەتى جاران و كۆمارى چينى ميللیى ئێستا، بەڵام دواجار سيستمێكى ئيستبدادیی وەها حوكمڕانیى دەكات كە كۆى تواناكانى وڵات لە دەسەڵاتێكى ناوەنديدا قۆرغ دەكات كە ڕكێف و ئاراستەى سەرجەم دامەزراوە سياسى و ئابوورييەكانى وڵات دەكات. زۆربەى سيستمە سياسييەكان لە وڵاتانى جيهاندا ئيستبدادين، كە لە سايەيدا دەستەيەكى كەمينە توانا و سامانى وڵاتى قۆرغ كردووە و زۆربەى هاوڵاتيان لە هەژارى و نەداريدا دەژين. جا بۆ ئەوەى بتوانرێت سيستمى سياسیى وڵاتێك بەرەو سيستمێكى گشتگير بگۆڕدرێت، پێويستە دوو ڕەگەزى سەرەكى فەراهەم بێت، يەكەميان بريتييە لە وێستگەى وەرچەرخان (Critical Junctures) و دووەمیان، ڕماندنى داهێنەر (Creative Destruction). وێستگەى وەرچەرخان بريتييە لەو ڕووداوانەى كە سيستمى سياسیى باڵادەست دووچارى شڵەژان و لەرزين دەكەن و ناچار بە بەخۆداچوونەوە و خۆڕەخنەكردنى دەكەن، وەك: پەتاى تاعوون و مردنى ڕەش كە لە سەدەى چواردەدا لە وڵاتانى ئەورووپا ڕووی دا و نزيكەی نيوەى دانيشتووانى ئەم وڵاتانە بوونە قوربانى، كە لە ئەنجامدا هێزى كار كەمی كرد و كرێكارانيش پێداگرييان لەسەر دەستەبەركردنى مافى زياتريان كرد كە دواجار توانيیان بڕێكى لە دەرەبەگ و دەسەڵاتداران بپچڕن. لە نموونەى ترى وێستگەكانى وەرچەرخان لە مێژوودا، وەك: شۆڕشى پيشەسازى و بازرگانیى ئەتڵەسى دواى دۆزينەوەى كيشوەرانى ئەمەريكا. لە چين شۆڕشى ڕۆشنبيرى وێستگەى وەرچەرخان بوو كە دواى مردنى "ماوتسی تۆنگ"، ئابووریى ئەم وڵاتەى بەرەو ئەو پێشكەوتنە پاڵ نا كە ئيستا بەخۆيەوە دەيبينێت، كە بێگومان لە ساڵانى داهاتوودا بەرەو وەستان دەچێت ئەگەر سيستمە سياسيیەكەى مل بە گۆڕينى خۆى نەدات. هەر چى ڕماندنى داهێنەريشە، زياتر پشت بە داهێنان و دۆزينەوە تەكنەلۆژييە تازەكان دەبەستێت، كە شێوازە كۆنەكانى بەرهەمهێنان پووچەڵ دەكەنەوە و شێوازى نوێ دەخەنە جێيان، وەك گۆڕينى ئامرازە دەستييەكانى كاركردن بۆ ئامرازە ئۆتۆماتيكييەكانى بەرهەمهێنان كە بە شێوەى ميكانيكى كار دەكەن. دۆزينەوە و داهێنانەكان پێويستى بە سيستمێكە كە پارێزگارى لە مافى خاوەندارێتى بكات، بۆيە هەرگيز ناشێت ڕماندنى داهێنەرانە لە سايەى سيستمێكى ئيستبداديدا فەراهەم بێت.